Wormhole
The Time Machine
Cinnafilm's Wormhole is a unique media retiming solution for file-based workflows, offering a compelling ROI for broadcasters, content owners and service providers alike.
As a plug-in for the RadiantGrid transcoder platform, the HPA Engineering Excellence Award-winning Wormhole has two primary applications: Program Retiming and Super Slow Motion.  Wormhole provides ±50% runtime adjustment of your media, while preserving video, audio and closed caption integrity. Wormhole can hit your delivery target runtimes — perfectly. Wormhole's Super Slow Motion allows for up to 900% slow down of assests, of course not all assests are created equally, so mileage will vary.
Overview
---
Adjust run time of file-based assets with no perceivable difference in playback quality:
Process video using Cinnafilm's patented, unique motion compensated algorithms — no dropped frames, which cause stuttered action and jumping pans
Use global settings or create a segmented cut sheet for precise control
Precisely adjust audio run length and accurately correct pitch to match video
Automatically adjusts closed-captions for the new run length
Scene by scene adjustment and on-the-fly recalculation for total target length
Automatic black detection
The screenshot below demonstrates the scene-by-scene control of the Wormhole User Interface. You set an overall time adjustment, but if there are specific scenes that need special treatment, you have the power to designate by timecode where those scenes are. The scenes which are set to AUTO will then be shortened/lengthened as necessary to meet the overall time adjustment objective once the special treatments are taken into consideration.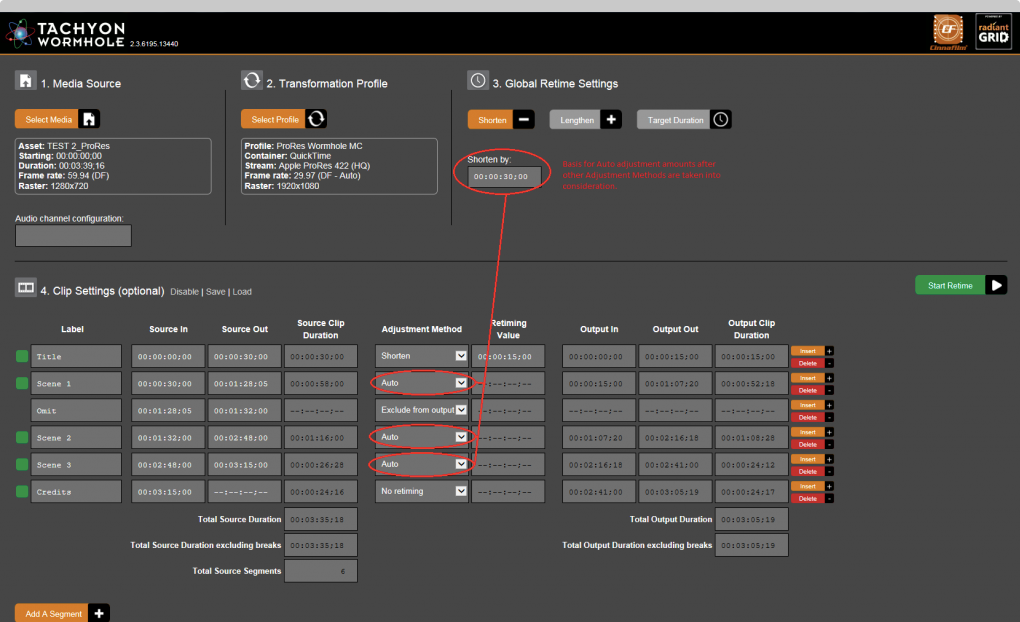 This screen shot is of Wormhole's global retiming method which simply applies time reduction/expansion evenly to the entire project.
Workflow Simplicity
Wormhole allows you to dramatically reduce/collapse your workflow by including multiple operations that would typically require multiple renders with other solutions . . .
---
Retime
Frame rate convert
Remove telecine/pulldown
Change resolution and/or format
Denoise/degrain/dustbust (Optional)
Insert telecine/pulldown
Transcode
. . . all in the same render.
Technical Details
---
Typical Deployment Configuration
Award-winning Wormhole retiming (±50%) algorithms

Enterprise-grade transcoding software with full SOAP/REST API and extensive XML API
2 real-time (HD) encoding streams

Award-winning Tachyon frame rate conversion

High-quality resolution interchange (SD to 4K)

Intelligent inverse telecine detection and removal

Video legalization

ProRes plus choice of 1 additional CODEC

AVID DNxHD 8/10 bit

AVC/H.264
J2K
MPEG 2
---
Resolution/Frame Rate Support
Spatial: PAL; NTSC; 720p; 1080i; 1080p; 2k; 4k.
Frame Rate: 23.976p, 24p, 25P, 29.97p, 25i , 29.97i, 50p, 60p.
Color: up to 16 bit 4:4:4:4 via a full-fidelity processing pipeline.
---
Retime Methods
Retime based on timecode range.
Ignore (hold) segment.
Exclude (remove) segment.
Retime segment explicitly.
Automatically "fit-to-fill" segment (to meet the target asset duration).
Detect-and-pass "black/silence" slugs.
---
Processing Method
Video: Full award-winning motion-compensated processing, re-synthesizes video data to produce perfect pictures. No dropped/doubled/blended frames, no stutters!
Audio: Full, non-destructive, retime and audio pitch correct of up to 64 channels results in perfect audio.
Caption: Retime support for 608/708 inside SMPTE 436M and QuickTime.
---
Options
Dark Energy Texture-Aware Resolution Scaling and Noise Reduction

Film grain reduction
Gaussian noise reduction
Chrominance noise removal
Luminance noise removal
Dustbusting

Dolby E decoding (to 32 pairs)
---
Performance
In these practical, real-world use examples below, Wormhole was able to process a complex retiming job in under 0.8 x asset run-length:
Processing 2 x 30 minute sources in parallel (1 hour source in total)

XDCAM HD422 in MXF 1080i60 shortened by 10% and converted to ProRes 422 1080i60 in MOV
47 minutes to complete.
Processing 2 x 30 minute sources in parallel (1 hour source in total)

XDCAM HD422 in MXF 1080i60 shortened by 10% and converted to AVID DNxHD 1080i60 in MXF
46 minutes to complete.
---
Price
Wormhole is available for acquisition in both CAPEX and OPEX solutions:
CAPEX

$25,000 for perpetual Wormhole license as described in Typical Deployment Configuration

$5,000 annual maintenance (upgrades and tech support)

OPEX

$15,000 annual subscription (1 year usage as described in Typical Deployment Configuration, includes updates & tech support)
For more information on how to make Wormhole a part of your workflow, contact [email protected].