Remastering for the Future: A Cinnafilm Image Processing Workflow Event
Published: April 24th 2018
Remastering for the Future: A Cinnafilm Image Processing Workflow Event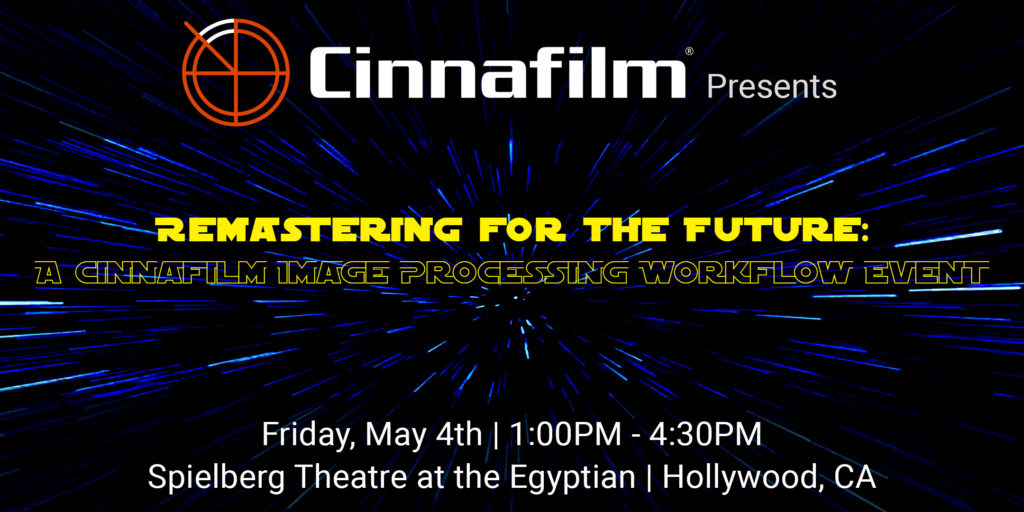 DATE AND TIME
Fri, May 4, 2018
1:00 PM – 4:30 PM PDT
Add to Calendar
LOCATION
Spielberg Theatre at the Egyptian
6712 Hollywood Boulevard
Los Angeles, CA 90028
View Map
Description of Cinnafilm Image Processing Workflow
Join us for an educational and fun exchange on image processing techniques used to restore and convert content for today's various format and home theater viewing demands. We will cover all of our image processing methods (frame rate conversion, scaling, artifact removal, retiming, and more), and hear about other user solutions as well. We will explore optimal ways to leverage Cinnafilm image processing tools to resolve these tough issues and discuss new concepts like cloud-based processing combined with IMF wrapping. This event is FREE, and seating is very limited, so please sign up soon!
---
Presentation Schedule
1pm – Rescuing 20th Century Television Content – by Ernie Sanchez, Cinnafilm
Random telecine, digital dropouts, 420 422 chroma noise, SD->HD scaling, luminance noise, progressive delivery – all can prevent your archived content from being remonetized in today's OTT environment. We'll go over techniques to simplify the process of unlocking the value of your archived content. Ernie Sanchez, co-founder of Cinnafilm, will demonstrate how to recognize the various problems encountered when trying to submit older assets to OTT playback services such as Netflix, Amazon Prime, Hulu and iTunes – and how to use the image optimization and frame mechanics toolset available in the Tachyon, Dark Energy, and Wormhole product lines to make those submissions easier.
145pm – Standards Transcoding in the Cloud? – by Marc Leonard, Cinnafilm
For many, asset management in the Cloud can be a scary prospect – not to mention transcode and delivery. Cinnafilm's new PixelStrings PaaS is designed to remove complexity and make it simple. We will discuss the benefits and challenges of this idea, and how it can be leveraged to optimize content for IMF for delivery to Netflix. Marc Leonard, a workflow specialist and software engineer at Cinnafilm, will use the PixelStrings platform to show how content can be safely placed in S3 and converted in the cloud. He will show how a complex image processing workflow (24/25 low frame rate conversion combined with a proper noise reduction) is created, tested, and finalized. In addition, he will demonstrate how the new CineCert IMF wrapping solution works.
215pm – "Where has the Time Gone?" – Retiming Broadcast and OTT Content, and When and Why Retiming is an Important Part of Production and Broadcast – by Fausto Sanchez, Performance Post
Post production and production have undergone many changes over the past years, resulting in new pressures and challenges related to how we produce and consume media. It has resulted in a tremendous need to modify, shorten, and expand content quickly. This presentation will discuss modern tools to aid in retiming workflows for broadcast and OTT content.
3pm – Short Break
315pm – Essential IMF for Cloud Automation – by John Hurst, CineCert
John Hurst will explain features of the IMF file format that are designed to support workflow automation and efficient localization. Producers of multi-market, multi-language content will learn how to reduce time to market and improve the quality of delivered material. John is the co-founder and CTO of CineCert, a consulting and software publishing group that develops computing technologies for professional media applications. CineCert is the developer of the DCI Compliance Test Plan, is a licensed DCI test laboratory, develops open source software, manages SMPTE standards development, and provides training and technology strategy consulting for various client interests in the fields of digital cinema and consumer channel servicing. CineCert's mastering and encryption software is widely used by studios and service providers to realize global, autonomous distribution platforms.
345pm – A New Hope for Film Restoration – A New Technique – by Mike Verta
Reconstructing a stunning 4K master purely from film print sources? Yes, and proof it can be done. This presentation explores an ongoing, private restoration of Star Wars Episode 4 by Mike Verta. Mike has worked on marquee projects in a multitude of post production capacities during the 30 years he's been in Los Angeles – as a VFX supervisor, composer, director, editor and more. His interest in film restoration stems not just from a love of film and history, but from a love of detail, precision, and tackling technical challenges in depth – a perfect contrast, he feels, to the organic, unbounded freedom which fuels creativity.
Background: As with many films, the original 1977 Star Wars negative is heavily damaged, degraded and incomplete. This made it a perfect candidate to explore a new technique: recruiting data from multiple print sources to recover a new 4K master image. Using a combination of off-the-shelf software and proprietary techniques and tools – particularly in image registration, comparative analysis, and color-matching – Mike was able to restore an image which surpasses all current O-Neg based restorations in detail and color fidelity. One of the many advantages of this process is that it is considerably less destructive in cleaning processes. Whereas typical cloning/painting of dirt and scratches means painting on and thus altering the original image, this approach scans alternate sources for the target area, replacing the damaged section of the frame seamlessly with undamaged original material. The effect is pure restoration – pristine original material is revealed behind the dirt or scratch. Similarly, by analyzing and combining multiple sources, print grain/IP grain is nearly eliminated, leaving the only grain all sources have in common: the original negative grain. This greatly improves detail and clarity while preserving the original image – a denoising process which is non-destructive and does not suffer from typical smoothing or temporal artifacts. While the process is far from point-and-click, the results are stunning and offer a chance to restore archival material to levels previously believed impossible, rivaling (and in some cases, curiously, surpassing) the original negative image.
***
Cinnafilm, Inc. is a global leader in innovative video optimization solutions for theatrical, broadcast, OTT and web delivery. Our patented file-based software solutions are true game changers in the demanding field of hyper-quality image processing. Our tools are relied upon by many of the world's premiere studios, networks, production companies and their collective creative service suppliers.
We solve many complex imaging challenges, including mixed cadence correction and frame rate conversions, noise reduction and texture management, artifact removal and dead pixel restoration, automated and custom retiming, resolution interchange and standards conversions, and transcoding and complex image packaging with the Cinnafilm Image Processing Workflow.
Combined, these tools provide the finest-looking, optimized video and image sequences for "media now and everywhere" distribution models.