Cinnafilm Adds Powerful Retiming, Microsoft Azure, and ProRes to its New Media Conversion PaaS, PixelStrings
Published: December 20th 2018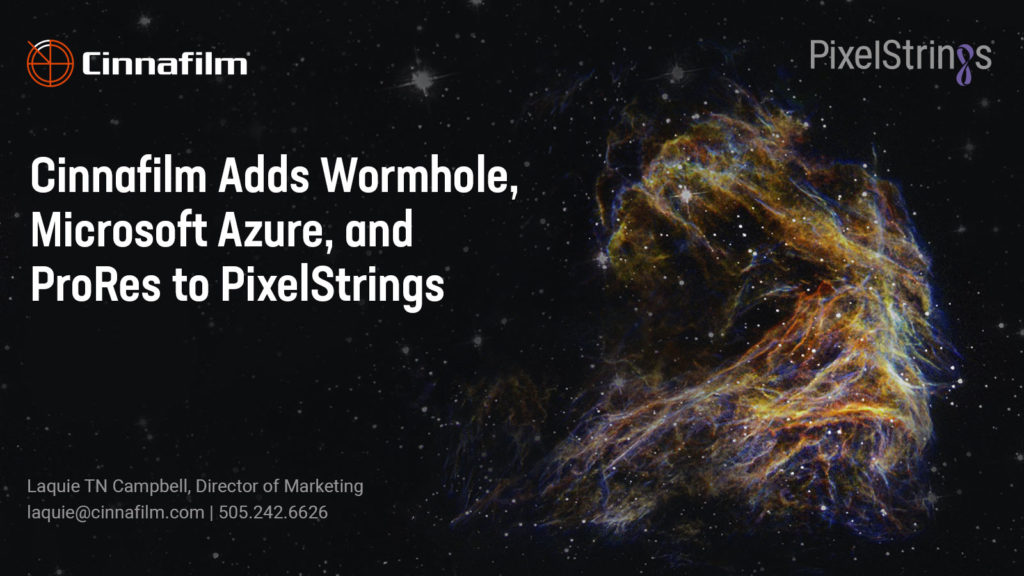 Cinnafilm Adds Powerful Retiming, Microsoft Azure, and ProRes to its New Media Conversion PaaS, PixelStrings
ALBUQUERQUE, December 20, 2018 — With cutting-edge technologies and advanced updates, the newest version of PixelStrings allows access to industry-leading video and image optimization tools in a cloud infrastructure to anyone, anywhere. PixelStrings provides enterprise-grade conversion technology that addresses many issues facing video delivery: frame rate conversions, runtime constraints, artifacts, noise, telecine issues, and scaling.
Microsoft Azure's enhanced agility and automation save time and resources. Users can build, deploy, and manage various applications on a fast, global network. Cinnafilm now empowers the users of this growing Azure ecosystem to process their media with PixelStrings, facilitating easy rendering of multiple high-quality assets inside Blob storage.
Another significant update for the growing cloud media platform is the inclusion of Apple ProRes, which provides a high-quality video format for professional playout, including broadcast and OTT delivery.
In addition to Microsoft Azure and ProRes, PixelStrings is adding the award-winning Wormhole retiming capability for precise runtime changes. As an avid user of Wormhole, Fausto Sanchez, President of Performance Post Inc., says, "[Wormhole] provides almost a perfect product. Changing the runtime of media can save considerable resources versus a creative re-edit when precise runtime slots must be met."
Cinnafilm CEO Lance Maurer says, "PixelStrings is a reflection of what our customers have been asking us for: a media conversion engine in the cloud that empowers their supply chain. As media owners begin to flex the muscle of what is possible in the cloud, we believe PixelStrings will become a cornerstone component for normalizing vast amounts of content pre-edit, and for generating multiple playout versions in the highest quality possible.  We believe the arrival of this tool is timely with the advent of OTT; we are enabling customers with a new way of doing business right when every possible technical advantage is needed."
About Cinnafilm
Cinnafilm, Inc. is a global leader in innovative video optimization solutions for television, film, and multimedia delivery. Harnessing the unmatched computing power of modern graphics cards, Cinnafilm's patented, 100% file-based software solutions are rapidly changing the field of high-quality image processing. Cinnafilm software is in use today at many of the world's premier, forward-thinking studios and networks, solving a wide variety of very complex imaging problems including but not limited to restoration and bitrate optimization, noise removal and texture-matching for digital cinema and film, and automatic retiming and standards conversions within real-time transcode workflows
Cinnafilm's corporate office is located in Albuquerque, New Mexico.
Contact
Laquie TN Campbell, Director of Marketing
[email protected]
505.242.6626