Cinnafilm proudly announces its NEW cloud image processing service, PixelStrings
Published: March 27th 2018
Cinnafilm proudly announces PixelStrings, its NEW cloud image processing service.
For over a decade, Cinnafilm has carved a reputable name for itself by providing stellar image processing solutions producing great looking content for cinema, broadcast and OTT.  Whether you are pulling together random camera footage prior to edit, fixing an old clip with bad telecine artifacts and noise, or converting outputs for custom distribution in different markets, we ensure your content looks as good as mathematically possible. That is our value proposition to you.  From iPhone to IMAX  and every format in between, we strive to make sure your investment looks as good as your images. Cinnafilm now proudly announces PixelStrings.
Now, with the advent of unlimited GPU cloud compute, we are able to deliver our technology as a direct-to-consumer PaaS for the first time, and in a pay-as-you-go model that is simple and predictable.  Anyone who is familiar with our products will find all the standard settings here, and everything we do is assembled into one ecosystem for single-pass rendering.
PixelStrings is a bold step for Cinnafilm, and big ideas like this take time to evolve. Our intent is to grow a community of users as we grow the toolset – we are all in it together.  Over time, you will see more killer features added like CineCert's IMF wrapping, our own Wormhole retiming solution, fast, efficient cloud storage options provided by FileCatalyst as well.
At NAB will show PixelStrings V2.0, which offers added features and codecs.
Onward!
Read more about PixelStrings here
Visit pixelstrings.com
Here are some screen shots from the PixelStrings platform: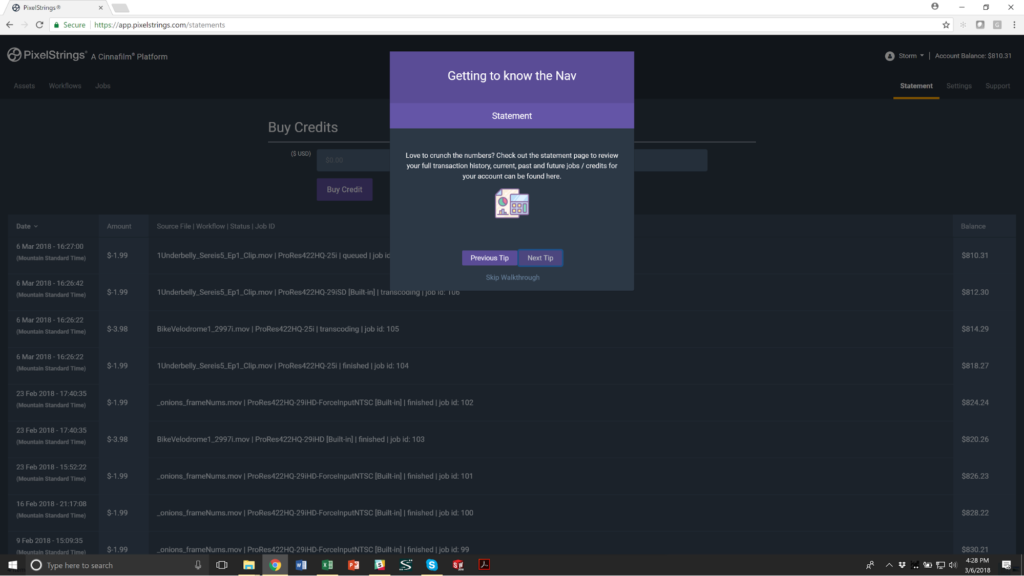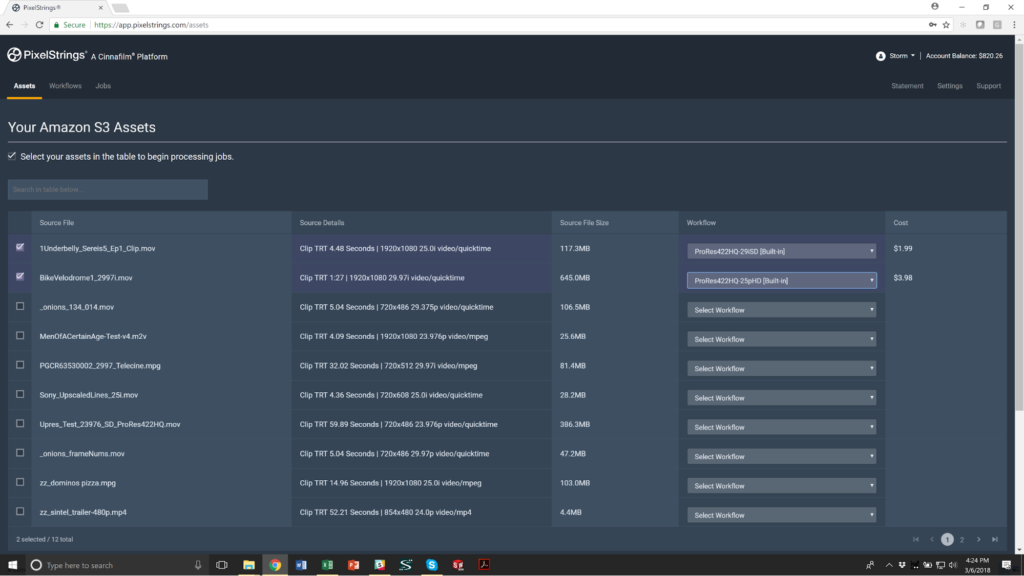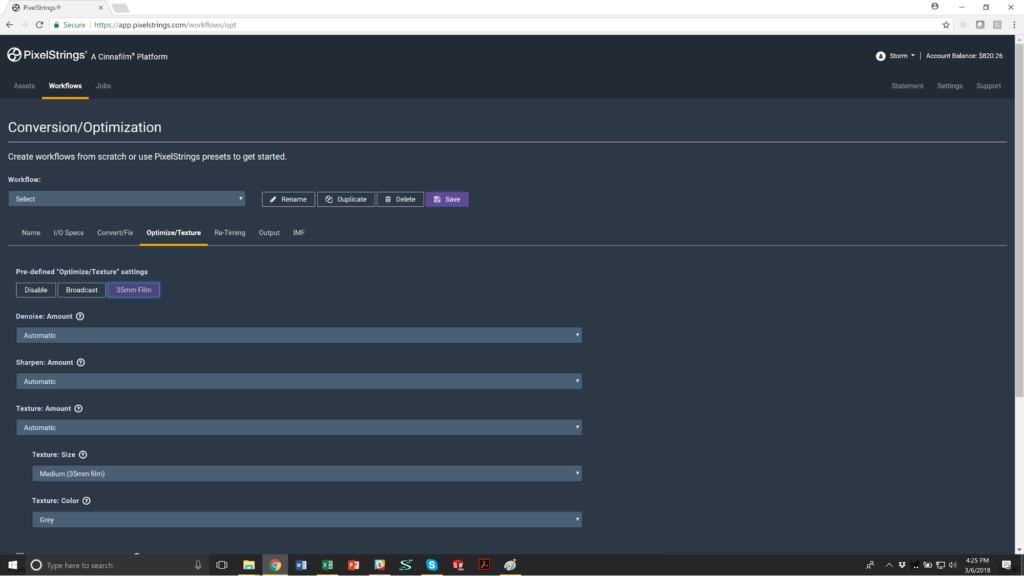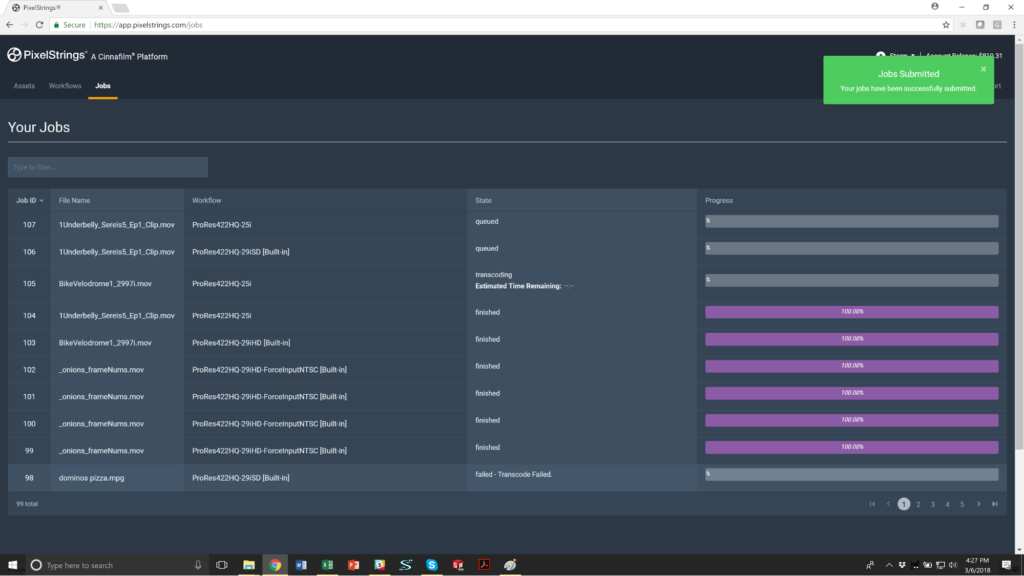 ---
RadiantGrid Redux – Filling the Enterprise Transcoder Gap
In the 2000s, Rhozet Corp. released an enterprise-grade transcoder called Carbon Coder. It dominated the market by providing great encoding quality, outstanding multicore processor utilization and the ability to start as a self-contained system and then scale to any size of farm desired. And, it did all this at an entry price point of just $5,000 (USD). Carbon Coder had its strengths and weaknesses, but without a doubt, it created a solid niche in the market which has never been filled since it was discontinued.
When Cinnafilm purchased RadiantGrid from Wohler last year, we initially saw it as an opportunity to ensure the viability of our Wormhole retiming product, provide an all-in-one solution that many of our clients had asked for in the past, and help strengthen the relationships we had with the mutual clients we had built with RadiantGrid's former parent company, Wohler. But when we received customer inquires about the transcoder we quickly realized this exceptional transcoding product had much more to offer…
Recognizing that the gap in the enterprise transcoding market had never been filled since Carbon Coder was discontinued, it was time to break out the shovels and start filling. We knew that Rhozet already provided an exceptional example at what people want: features, scalability, quality, low price – yeah, sounds easy. But we wanted to make it even harder on ourselves, so we are also addressing many of the shortcomings which caused thousands of Carbon Coder users to leave their beloved Rhozet.  All while maintaining the same $5,000 price point!
So here we go:
Start with a self-contained solution for $5,000 that includes

Full 10-bit CODEC support in a 16-bit pipeline
Ingest/Demux/Decode nearly any container/CODEC type WITHOUT having to know ANYTHING about the file
DPP video legalization
Watch folder system or MAM-based control (via XML)
High-performance, multi-core, multi-threaded architecture
4 simultaneous transcoding outputs
Gridded transcoding, which allows users to divide a single file into multiple pieces for incredibly fast transcoding

Make it Expandible as necessary

Add additional simultaneous transcoding outputs to fully leverage multiple, high-core CPUs (vertical scaling)
Add a manager ($3,000 USD) and additional nodes to create the right-sized farm (horizontal scaling)
Add Tachyon, Dark Energy, Wormhole, Dolby, Linear Acoustic options to meet workflow needs

Put a roadmap together that makes sense

64-bit platform
ProRes HQ, H.265, J2k support
Rec 2020, HDR, ACES support
If you are a Carbon Coder user and have longed for the ability to add ProRes without breaking the bank, or just wanted a 10-bit pipeline, or needed video legalization, RadiantGrid may be worth a look.
---
Bending Space and Time – What's New with Cinnafilm Products
SpaceTime is the idea of taking three-dimensional space and fusing it with the single dimension of time, into a four-dimensional continuum. We view our technology along the same 4D continuum.
To better reflect how our products are developed, and to recognize that each of them are all part of the same parent concept, Cinnafilm is updating the name of our product library – SpaceTime.  Today, the library is known as the tachyon.dll, but it has always been much more than just Tachyon. This one little DLL has all of the spatial magic of Dark Energy, the frame mechanics of Tachyon, and the retiming wizardry of Wormhole.  Calling it just "tachyon.dll" seemed a little undeserving. Starting with the 8.0 release, the library will be referred to as the "spacetime.dll". Pretty cool huh?
Release number – with this update, we have decided to make all SpaceTime feature sets an 8.0 release going forward.  In this way, we have only one set of release notes to provide. So, as of this release we are at Tachyon 8.0, Dark Energy 8.0, and Wormhole 8.0.  The only exception is Dark Energy Professional, which is a different code base. That will remain a 5.0.
So what's new in SpaceTime 8.0?
The primary advancement in Tachyon 8 is our fifth-generation motion compensation engine. This new engine reduces the potential for the tearing/warping of overlayed text and graphics in video. The algorithms in Tachyon 8 work to prevent the overlay from losing its edge significantly better than what Tachyon 7 could do. In future releases we expect this technology to advance even further.
Also new in Tachyon 8 is the addition of more granular controls of the motion compensation engine, and an easier grouping of Tachyon controls. As seen in the screenshot below, there are two banks of controls for motion estimation. This provides users the ability to control how both normal motion and extreme motion in the video is handled, allowing for greater granularity when settings need to be moved off of AUTO.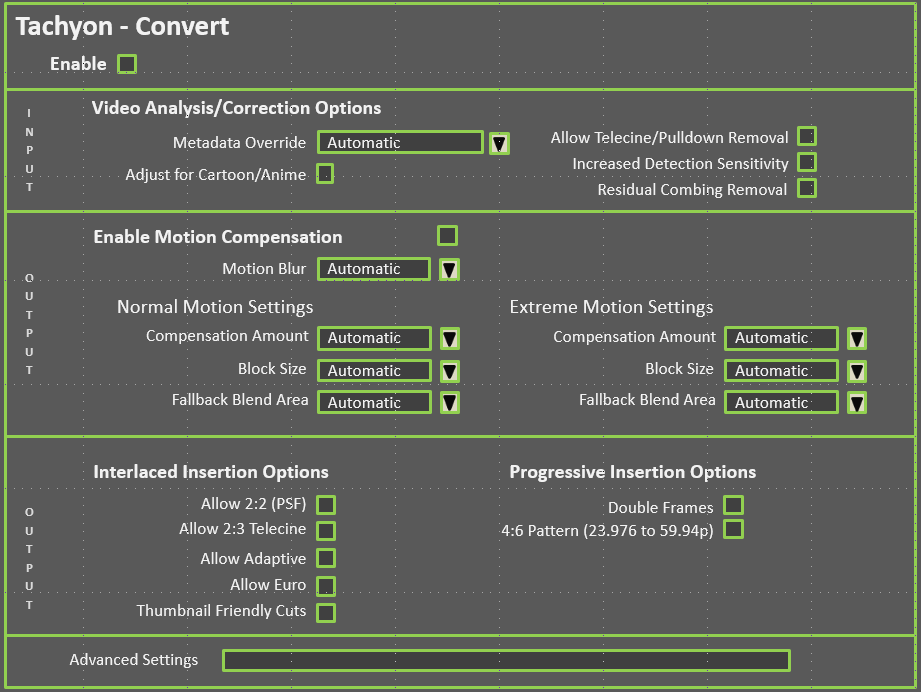 New in Dark Energy is additional filters for handling specific types of noise, new 32-bit per color channel adjustment, a more template-friendly interface, and some renaming of noise reduction filters to match Dark Energy Professional. We'll let you take a look below at the user interface before we dive in: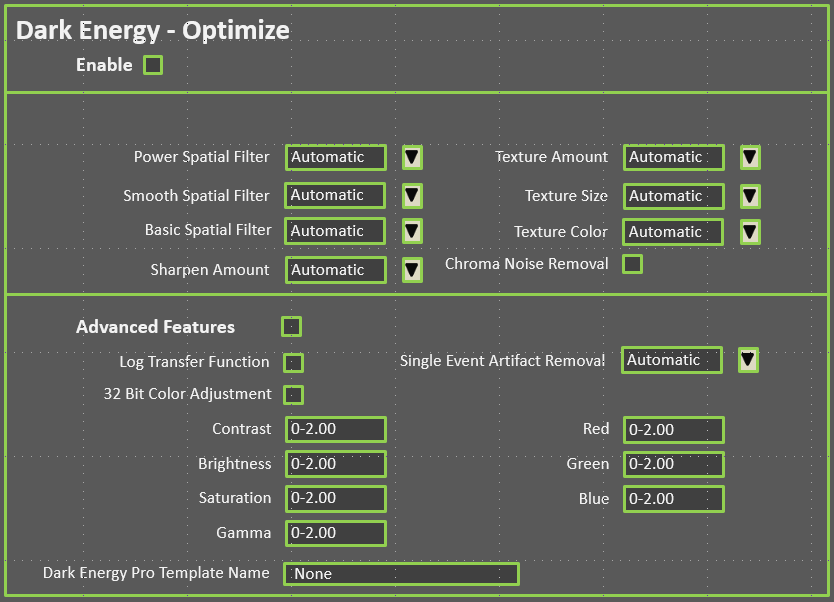 Power Spatial Filter is formerly known as "Denoise Amount." The reason being is when you process using a Dark Energy Professional template, we believe it is good to know which filter correlates to the Dark Energy for Transcoders GUI.
Smooth Spatial Filter is a new filter for video noise that has a pattern to it, but is subtle. This is not a filter that has the division of color spectrum into different frequency ranges, so it is limited in its scope. It is a good general filter if you have tape transfer or other 420/422 conversion noise.
Basic Spatial is for noise that appears to have a pattern, is typically monochromatic, and is clearly visible.  It often looks like multiple lines in a diamond shape or as a string of small circles at edges of objects. This filter can be destructive, so we recommend using the Dark Energy Professional template or experimenting with very good monitors to ensure you retain the right sharpness of image.
Single Event Artifact Removal is formerly known as Dust Bust. We felt that since this filter can remove digital dropouts in addition to artifacts associated with film scans, it made more sense to be descriptive in the type of function it performs.
32-Bit Color Adjustment is a filter that accurately pushes the RGB values of the frame as well as makes adjustments to Contrast, Brightness, Saturation, and Gamma.  Submitting a Dark Energy Professional template is the ideal way to use these filters, so we recommend not using the GUI until you are familiar with the sensitivity of these filters.
If you have the plugin and would like a demonstration of how to create an advanced template in Dark Energy Professional, let us know. Using these templates is especially helpful when dealing with exceptionally challenging footage that is not getting fixed with the plugin and/or film footage where the grain structure changes scene to scene.
There are no updates currently for Dark Energy Professional, which is at 5.0.
Wormhole has advanced with two new exciting features for global retiming without using the Wormhole Segmentation Interface: Starting Timecode and Black Omission Threshold.
Starting Timecode allows users to set the point where Wormhole begins the retiming calculations. For example, if there are 2 minutes of slates and color bars at the beginning of the video file and the program starts at 01:00:00:00, you can instruct Wormhole to not consider the first 2 minutes in the retiming calculations.

Black Omission Threshold is a setting that allows black segments inserted in the video file to not be retimed and be omitted from the retiming calculations.
With these two settings, users will not have to use the Wormhole Segmentation Interface for files that have a known program start timecode and program breaks identified by x number of black seconds inside the video file. Instead, they just specify it one time in the profile and submit jobs at will via XML or using the watch folder.
Wormhole will be added to PixelStrings later this year, and these global settings will be what is presented in that toolset.
---
NAB 2018 & Other Chaos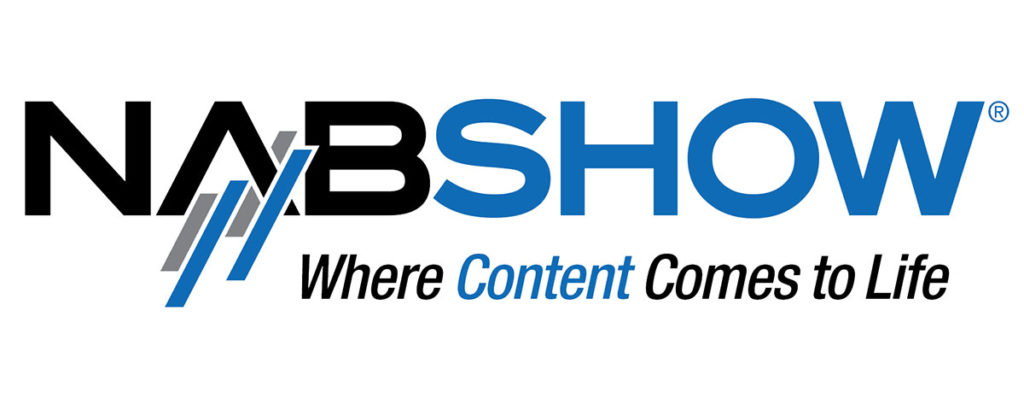 Come see us on the floor.  Introductory offer of 10% off for PixelStrings credits. Use this code: RIP_HAWKING_PIDAY_2018A
For a demo, contact [email protected].
And lastly, we have a new website. We're super proud of it.  Check it out!!