New Tachyon Wormhole Wins 2014 NAB Best of Show – TV Technology
Published: April 30th 2014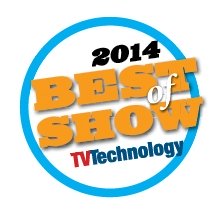 Tachyon Wormhole Popular Product Launch at NAB '14 – Tachyon Wormhole Wins 2014 NAB Best of Show
The Tachyon Wormhole Appliance is designed to be a turnkey solution for operations desiring to shorten or lengthen video projects by ±10%. Using the latest Cinnafilm algorithms, Tachyon Wormhole does something no other technology can: Transform transcoding from being a cost of doing business into a source of revenue generation – without affecting video, audio, or closed caption integrity.
Partnering with Wohler, Cinnafilm has created an incredibly fast, complete retiming solution for file-based workflows. Using the unmatchable processing speed of RadiantGrid to provide transcoding, Tachyon Wormhole delivers two real-time projects per server in an economic appliance that scales to as many as 8 retiming streams processing in real-time in just 4 rack units!
Unlike other solutions that simply speed up or drop frames from the assets, Tachyon Wormhole uses proven motion compensation algorithms to "recapture" video to play faster/slower, creating a much smoother solution than what has been previously available. Audio is expertly retimed and pitch corrected to ensure there is no perceivable difference in the end-viewers experience, and those with closed caption requirements will be glad to know all captions will also be retimed to match the specified adjustment in run length.
Tachyon Wormhole also provides the ability to lengthen assets to match a specific target run time. Was the project sent to you 22 seconds short of the allocated time slot? Tachyon Wormhole has the ability to expand time, up to 10% of the total run length, eliminating the need to request a new asset or to send the project back to editing.
To find out more, listen to Ernie Sanchez as he discusses the new Tachyon Wormhole with James Mathers of Digital Cinema Society at NAB '14 player.vimeo.com/video/91731075.
To see the features of Tachyon Wormhole, click here.