Cinnafilm wins Studio Daily Prime Award – NVIDIA Tesla Powers Cinnafilm Tachyon to Another Award
Published: April 30th 2013
Cinnafilm wins Studio Daily Prime Award – NVIDIA Tesla Powers Cinnafilm Tachyon to Another Award
Cinnafilm, Inc. was awarded the Studio Daily Prime Award for "Power in Post Production" at the Prime Awards Breakfast held on April 9th, 2013 for its Tachyon product.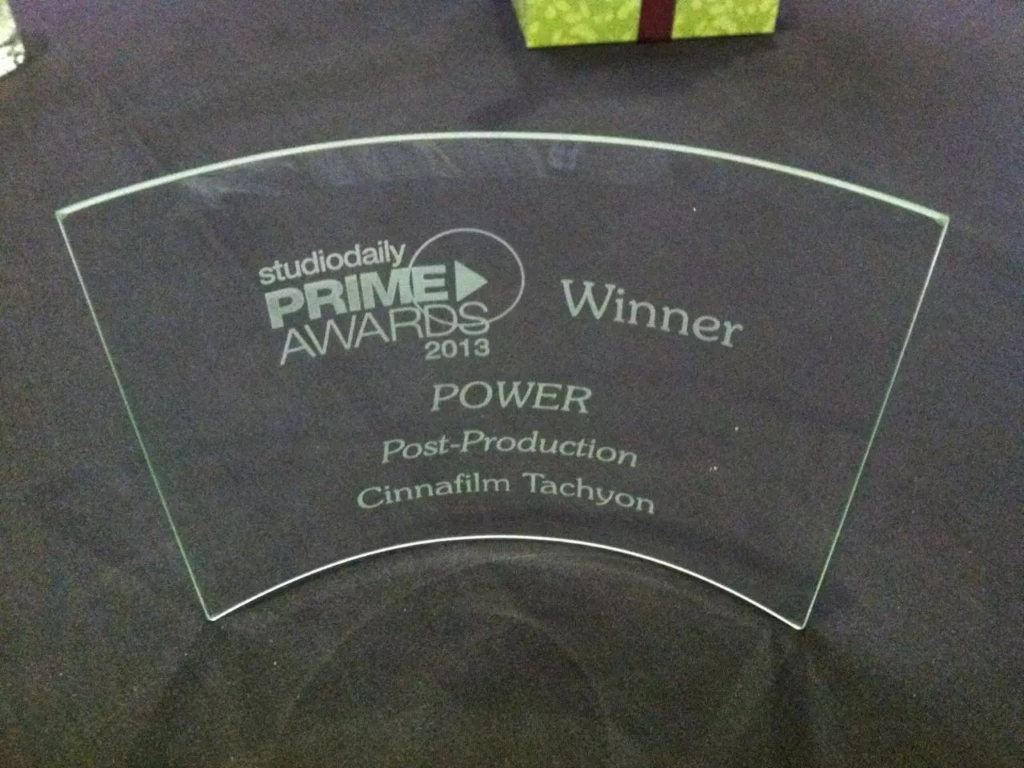 Powered by NVIDIA Tesla GPUs, Tachyon is the world's preeminent file-based standards conversion software, delivering both speed and quality – previously unheard of in the file-based transcoding space.
"We are excited to receive our second award for Tachyon within 7 months because it demonstrates broadcast and post production communities are starting to realize a new era of standards conversion is upon us" said Ernie Sanchez, COO of Cinnafilm.  " Frankenstein workflows, cobbled together with old baseband technologies and ingest servers, are never going to scale to meet production demands like Tachyon can.  With NVIDIA Tesla GPUs, our patented GPU-based algorithms exceed the processing speeds of baseband and deliver images that are on par or better than anything that has ever been done in SDI-based devices."
Tachyon's next generation algorithms for de-interlacing, inverse telecine, and scene cut detection were released at this year's NAB.  Coupling this new technology with the latest NVIDA Kepler-based GPUs creates a processing environment that is scalable to meet any volume or performance metric desired with exceptional image quality. Thanks to this, the Nvidia Tesla technology helped power Cinnafilm Tachyon to a Studio Daily Prime Award!
The awards event was held in conjunction with NAB at the Las Vegas Convention Center.  It honored the top tier of new software and hardware being used in production and post today.  Cinematographer James Mathers delivered the keynote and Lance Maurer, President of Cinnafilm, accepted the award on behalf of Cinnafilm.
The distinguished circle of nominees, holding the key to innovation in leading-edge technology, can by found by clicking here.