Peter Jackson Documentary Uses Innovative Cinnafilm Tachyon Film Restoration to Empower Firsthand Accounts from World War One
Published: December 17th 2018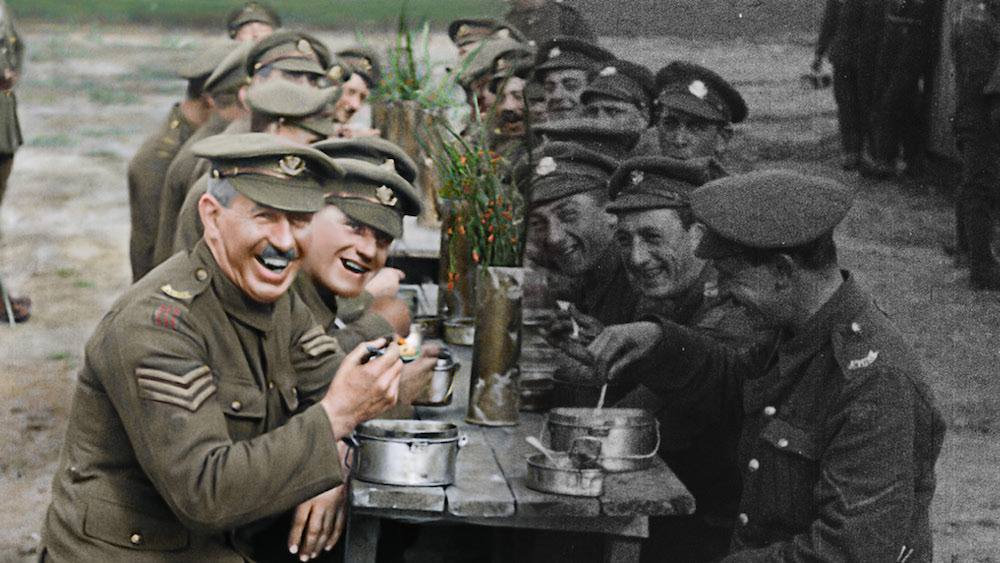 In his new film, They Shall Not Grow Old, Peter Jackson offers unprecedented documentary storytelling. The film relies on restored footage from WWI, which is so evocative, that no historians or narration are necessary. Lip readers and actors were employed to reconstruct actual dialogue, and meticulously added color gives life to experiences from the trenches. Actor and children's author David Walliams says it's "one of the greatest documentaries I have ever seen." The Documentary Uses Innovative Cinnafilm Tachyon Film Restoration to Empower Firsthand Accounts from World War One.
Jackson describes the restoration process, saying that long before sound and color can be added, moving from "bad black and white, to good black and white, is actually where most of the work is. You've gotta do a multifaceted thing, it's sharpening, it's getting rid of grain, changing the speed, getting rid of splices. Sometimes you lose three or four frames in a splice, you've gotta then have the computer create those [frames]." For this intense labor, Jackson's team called on software from Cinnafilm. Originally developed for cinematic conversions, Tachyon is uniquely capable of generating high-quality, new frames from any source material; it is well known for its excellent motion-compensated conversion quality and speed, and is in use by hundreds of facilities around the world.
A key component to the riveting effect of They Shall Not Grow Old is lifelike movement, never before seen from this era. Experts know the difficulty of attempting to smooth out the trademark jerky movements of early film. On average, WWI footage was shot anywhere from 10-16 frames per second, recording far less temporal information than fluid playback requires. Since 1927, cinematic image and sound have been captured and projected at 24 frames per second. When older, silent material plays on 24 fps systems, the slower frame rate looks sped up and unrealistic. This was acceptable in the 1920s, but no longer. Converting to 24fps is what modern audiences are used to.  "You're now asking the computer to create extra frames in between the ones that are there," says Jackson, "which, I mean it amazed me how well they can actually do it now." Cinnafilm's Tachyon technology analyzes moving images to create a quarter-pixel-accurate database of pixel velocity and object motion, allowing it to synthesize new frames where there were none. But, the very low frame rates create issues with significant motion blur, and to avoid excessive artifacting the blurred areas will require roto work when objects are in higher motion. The combined result of Tachyon's frame engine and StereoD's hand-painted craft closes those artifact gaps, brings the subjects more to life, and presents results so fantastic that teacher Tom Rogers tells the BBC, it's "probably the nearest thing we'll get to travelling back in time."
The film immortalizes soldiers in their own words and actions, honoring the day-to-day life of those who fought in the First World War. Farah Cheded of Film School Rejects says the restored footage gives "heartbreaking immediacy" to an old story. Cinnafilm is proud to be part of They Shall Not Grow Old, and in Jackson's investment in history, which speaks for itself. Travel back in time with Warner Bros., presenting Peter Jackson's They Shall Not Grow Old IN THEATERS DEC 17 and DEC 27 2018.
Interview with Peter Jackson from Zoie O'Brien, The Daily Mail
Quotes from Paul Gribben, BBC News
Photos from They Shall Not Grow Old