What's New at NAB Show 2022?
Published: April 20th 2022
NAB is back!
Nothing is quite like roaming the massive Las Vegas convention center halls on tired feet, gazing at the amazing glass-to-glass technology that propels our industry.  It's hard to beat seeing those old familiar faces pass by us on the escalator or standing in line for overpriced coffee.  Worth every penny.  And while many things will be permanently changed about how we all orchestrate this business, I remain hopeful that the most important things will stay the same – namely, seeing friends and talking tech as we bear witness to the incredible evolution of the media industry.  NAB just feels electric to me, and I am so thrilled that Cinnafilm will be returning to the Big Show to be a part of it.
We have a ton of updates to share at Cinnafilm!  During this pandemic, we've had our heads down making our flagship product, PixelStrings, even better and more powerful.  PixelStrings is the critical piece to any media transformation supply chain where playback quality is a business differentiator.
Come and see what we have been working on in the lab!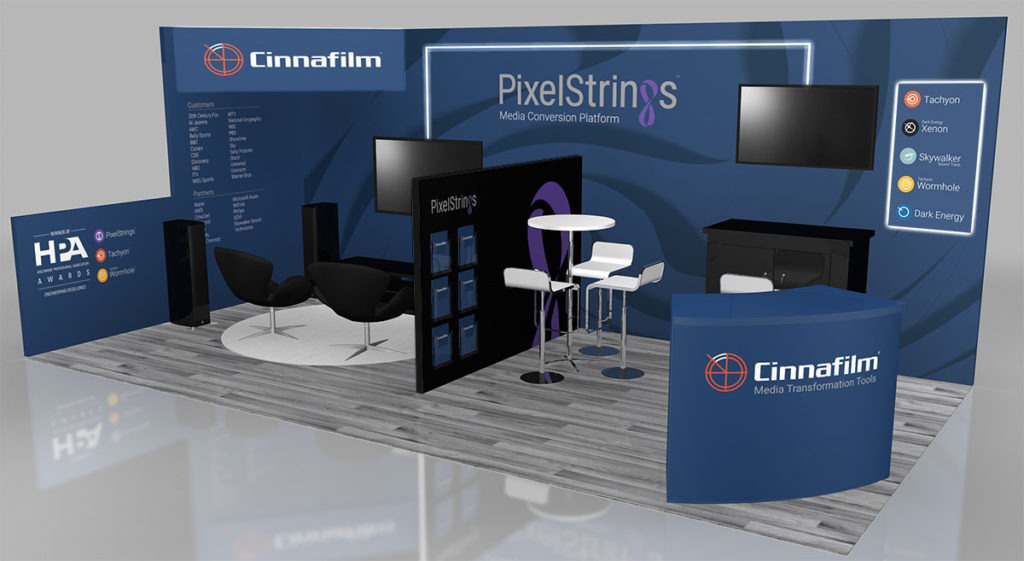 Stop by our booth #W3912 or book a demo and/or private meeting now.
For more information, contact us at [email protected].
WHAT'S NEW
PixelStrings 5.0 – Our super media transformation platform that does it all and keeps getting better.  New features include:
We are excited to finally be releasing IMF Output (using CineCert's amazing Anini system). This option leverages both Tachyon and Skywalker Sound Tools to author perfectly synced content.
Skywalker Sound Tools is releasing its incredible new adaptive Upmix module – allowing users to upmix audio from stereo to an incredible sounding 5.1 using proprietary techniques developed at Skywalker Sound. Upmix provides dynamic field balancing that not only creates the optimal spatial experience but also eagles downstream downmixing back to stereo safely.
Dark Energy Xenon – Unbelievable SDR <> HDR conversions that actually sell the concept of automated conversions. Whether you are downconverting from Dolby Vision to SDR, upconverting SDR to HDR10, or leveraging the incredible advantages of ATSC 3.0-compliant Advanced HDR by Technicolor, this new toolset provides an affordable solution to present SDR libraries in stunning HDR format.
Dolby Audio Professional – PixelStrings is now fully certified for Dolby Digital and AC3 encoding.
Improved financial connectivity, reporting, and management – built with the modern facility/supply chain operations in mind, the updated PixelStrings cloud SaaS subscriptions enable easy purchase order-based processing with full reporting and accounting capability for easy financial tracking, alongside improved management of PxS users within the same facility. This is true virtual pay-as-you-go brick and mortar service, on-demand 24/7, powered through API.
Improvements to our image processing engine. The latest version of Tachyon 10 includes precision/predictive output, improvements to automated and challenging conversions, and improvements in performance, including a much more robust color conversion pipeline. Tachyon and Dark Energy image processing solutions are also readily available as separate licenses within various enterprise transcode OEM solutions.
Meet with Skywalker Sound!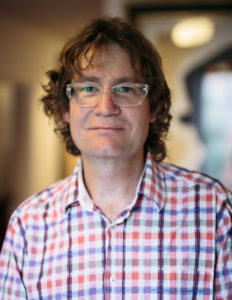 Steve Morris, Director of Engineering at Skywalker Sound will be present at the Cinnafilm booth on Monday and Tuesday from 10:30 am – 1 pm PDT to answer questions about Skywalker Sound Tools inside PixelStrings. Steve has over 30 years of experience in audio engineering and is also a member of SMPTE, AES, and the Academy of Motion Picture Arts and Sciences.
Stop by our booth #W3912 or book a demo and/or private meeting now.
For more information, contact us at [email protected].
Happy NAB 2022!
---
More Information:
Create a PixelStrings Account
PixelStrings Product Page
PixelStrings Product Sheet
Don't miss the latest news and PixelStrings media conversion platform updates!
Subscribe here.
We strive to make PixelStrings the most efficient, affordable video standards transcoding workflow option with the highest level of quality achievable. If there is a feature you would like to see in PixelStrings, we'll be happy to discuss it with you to see how we can incorporate it into our production schedule. Contact us to learn more or request a demo.